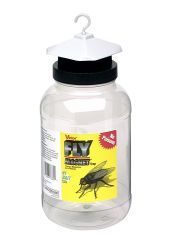 • Attract and Trap Flies
• Bait Is Included With Each Trap
• Non-Poisonous
Ingredients:
Disposable fly trap. Patented poison-free bait is the most effective on the market.
Woodstream Lawn & Garden - Victor Fly Magnet With Bait - 1 Gallon product is categorised under Wholesale Woodstream Lawn and Garden products, Wholesale Lawn & Garden, Wholesale Traps (Yard, House and Barn).