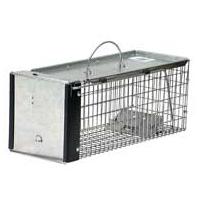 • Preassembled
• High Tensile Wire Mesh Trap/Steel Reinforced Gravity Action Door. Sensitive Triggers To Ensure Quick Secure Catch
• For Rats Weasels Chipmunks Flying Squirrels and Red Squirrels
• Wild Animals Stress Easily and May Seriously Injure Themselves As They Attempt To Escape From These Traps
Ingredients:
High tensile wire mesh trap.
Woodstream Havahart - Havahart Trap Chipmunk - 16 x 6 x 6 Inch product is categorised under Wholesale Woodstream Havahart products, Wholesale Lawn & Garden, Wholesale Traps (Yard, House and Barn).