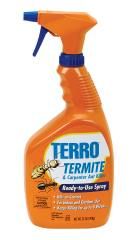 • Carpenter Ant & Termite Rtu Spray Kills Destructive Insects On Contact Indoors and Outdoors.
• Convenient Trigger Spray Bottle Makes It Easy To Reach The Hidden Areas Where Carpenter Ants Live.
• Such As Joists, Baseboards and Window Sills.
• Long Lasting Formula Contains Highly Effective Deltamethrin.
• Kills Up To 4 Months.
Ingredients:
Active ingredient: deltamethrin(.02%)
Senoret - Termite and Carpenter Ant Insecticide - 32 oz product is categorised under Wholesale Senoret Terro products, Wholesale Lawn & Garden, Wholesale Animal & Insect Control.