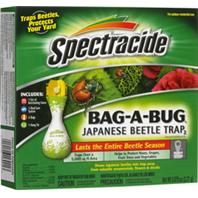 • Has An Effective Combo Lure System Featuring Noth Natural Sex Attractant and Floral Lure
• Draws Insects From Over A 5, 000 Square Foot Area To Help Protect An Entire Lawn and Garden From Destructive Pests
• Will Last The Entire Japanese Beetle Season
• Package Includes Easy-To-Follow Illustrated Instructions For Trap Assembly, Placement and Display
Ingredients:
21. 98% eugenol 9. 43% geranoil 9. 43% 2-phenyl ethyl propionate. 02% (r-z) 5- (1-decenyl) dihydro-2 (3h) furanone.
Schultz - Spectracide Bag-A-Bug Japanese Beetle Trap - 1 Pack product is categorised under Wholesale Schultz Spectrum products, Wholesale Lawn & Garden, Wholesale Traps (Yard, House and Barn).