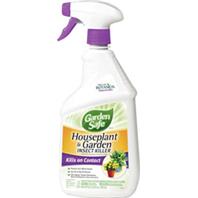 • Kills Aphids, Tomato Hornworms, Green Fruitworms and Other Listed Insects
• Protects The Whole Garden
• Can Be Used Up To The Day Of Harvest
Ingredients:
0.1% pyrethrins 1. 00% canola oil.

Schultz - House Garden Insect Spray - 24 oz product is categorised under Wholesale Schultz Spectrum products, Wholesale Lawn & Garden, Wholesale Chemical Pesticides.