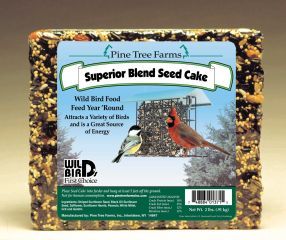 • Consist Of The Finest Seeds & Nuts To Attract A Variety Of Birds.
• Provides A Great Source Of Energy For Year Round Feeding.
• Place Suet Cake Into Feeder and Hang At Least 5 Feet Off Ground.
• Not For Human Consumption.
Ingredients:
Black Oil Sunflower Seed, Striped Sunflower Seed, White Millet, Sunflower Hearts, Safflower Seed, Peanuts, Git, Gelatin. Each Cake Consists Of The Finest Seed and Nuts To Attract A Variety Of Birds
Pine Tree Farms - Superior Bird Seed Cake - 2 Lb product is categorised under Wholesale Pine Tree Farms Inc products, Wholesale Wild Birds, Wholesale Food & Treats.