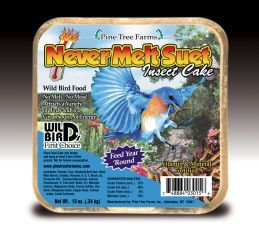 • Vitamin and Mineral Fortified
• No Melt No Mess. Will Not Soften Or Crumble
• Attracts A Variety Of Birds and Is A Great Source Of Energy
• Place Finch Cake Into Feeder and Hang At Least 5 Feet Off The Ground
Ingredients:
Peanuts, Corn, Rendered Beef Suet, Calcium, Vitamins-A-D-E-B2Niacin, Pyridoxine, Thiamine, Mononitrate, Calcium Pantothenate, Folic Acid, Biotin, B12, Minerals, Oxide. Ferrous Sulfate, Zink Oxide, Manganese Oxide, Copper Oxide, Calcium Lodate Cobalt,
Pine Tree Farms - Never Melt Suet Cake - Insect - 13 oz product is categorised under Wholesale Pine Tree Farms Inc products, Wholesale Wild Birds, Wholesale Food & Treats.