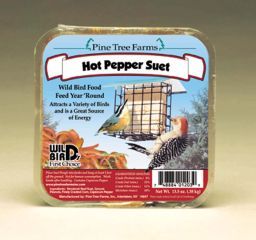 • Vitamin and Mineral Fortified.
• No Melt No Mess. Will Not Soften Or Crumble.
• Attracts A Variety Of Birds and Is A Great Source Of Energy.
• Place Finch Cake Into Feeder and Hang At Least 5 Feet Off The Ground.
Ingredients:
Ground Peppers, Cracked Corn. Capsicum Pepper, Rendered Beef Suet, Flavoring, Vitamins and Minerals
Pine Tree Farms - Never Melt Suet Cake - Hot Pepper - 13 oz product is categorised under Wholesale Pine Tree Farms Inc products, Wholesale Wild Birds, Wholesale Food & Treats.