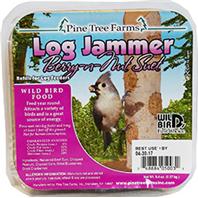 • Refills For Log Feeders.
• Wild Bird Food To Feed Year Round.
• Attracts A Variety Of Birds and Is A Great Source Of Energy.
• Fill Your Log Jammer Bird Feeder With These Specially Made Plugs Of Suet.
Ingredients:
Rendered Beef, Chopped Peanuts, Cracked Corn, Dried Blueberries, Dried Cranberries
Pine Tree Farms - Log Jammers Suet Plugs - Fruit 9.4Ounce/3 Pack product is categorised under Wholesale Pine Tree Farms Inc products, Wholesale Wild Birds, Wholesale Food & Treats.