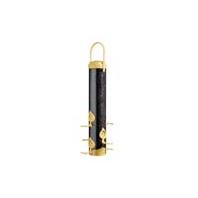 • Finch Feeder With 1. 5 Pound Seed Capacity.
• Specially Designed For Finches and Other Thistle Feeding Birds Easy To Fill and Clean.
• Unique Comfort Perch Invites Birds To Dine Longer Large 1. 5 Pound Thistle Seed Capacity Six Feeding Stations.
Ingredients:
Constructed of plastic materials.
Opus - Classic Finch Feeder - 1 Lb product is categorised under Wholesale Opus Inc products, Wholesale Wild Birds, Wholesale Bird Feeders and Accessories.