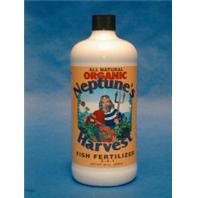 • Organic, Highly Nutritional Protein Fertilizer Made With Naturally Occurring Enzymes Present In Fresh North Atlantic Fish.
• Nitrogen, Derived From Fish Protein In The Form Of Amino Acids, Slowly Breaks Down Into Basic Compounds When Added To Soil.

• Does No Biological Damage To The Soil and Will Promote The Growth Of Beneficial Bacteria.
• Because No Oils Or Proteins Are Removed, The Nutrients Remain In The Soil Longer.
• Omri Listed.
Neptunes Harvest - Hydrolyzed Fish Fertilizer 2-4-1 - 36 oz product is categorised under Wholesale Neptunes Harvest products, Wholesale Lawn & Garden, Wholesale Fertilizers.