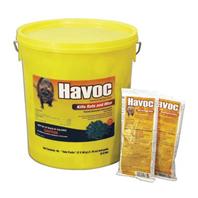 • These Pellets Are Ready To Use, and Can Kill Rats and Mice In A Single Night S Feeding
• Packs Can Be Placed Down Without Removing Bait. Rodent Will Chew Through Package
• All-Weather Bait For The Toughest Rodent Infestations
• Strongest Anticoagulant Rodenticide Available
• Controls Norway Rats, Roof Rats and House Mice, For Use In and Around Homes and Agricultural Buildings
• Pail/40
Ingredients:
Active ingredient brodifacoum:. 005% contains a special mixture of highly attractive bait ingredients blended with a patented food processing techniques.
Neogen Rodenticide - Havoc Twin Packs Pail - 50 Grams product is categorised under Wholesale Neogen Corporation products, Wholesale Lawn & Garden, Wholesale Pest Control / Rat Baits.