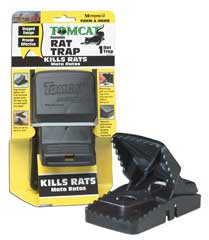 • Ideal For Capturing The Occasional Intruder Or As Part Of A More Extensive Control Program.
• Reusable Traps Set In One Easy Motion With Your Hand Or Foot.
• Proven Effective and Has Patented Interlocking Teeth.
• Also Comes With A Removable Bait Cup.
Ingredients:
Patented interlocking teeth makes escape virtually impossible.
Motomco - Tomcat Snap Rat Trap product is categorised under Wholesale Motomco products, Wholesale Lawn & Garden, Wholesale Traps (Yard, House and Barn).