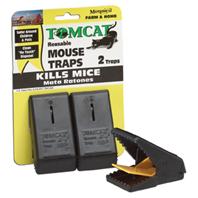 • Mechanical Traps Are Ideal For Capturing The Occasional Intruder Or As A Part Of A More Extensive Control Program.
• Easy To Work and Reusable Traps.
• Safe Around Children and Pets.
• Clean No Touch Disposal With Automatic Reset.
Ingredients:
Patented interlocking teeth makes escape virtually impossible.
Motomco - Tomcat Snap Mouse Trap - 2 Pack product is categorised under Wholesale Motomco products, Wholesale Lawn & Garden, Wholesale Traps (Yard, House and Barn).