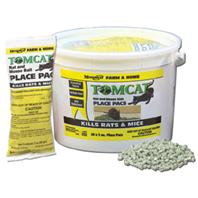 • Tomcat Is Tougher Than A Barnyard Cat For Controlling Rats and Mice.
• Tomcat Baits Are Manufactured With Human Food-Grade Ingredients and Enhancers, For A Bait So Palatable That Rats and Mice Can't Resist.
• Kills Rats and Mice In 4-6 Days.
• 20 Pack.
Ingredients:
Diphacinone (anticoagulant) multiple-feeding bait each pack contains 3 oz.
Motomco - Tomcat Rat and Mouse Bait Place Packs - 3 oz - 20 Pack product is categorised under Wholesale Motomco products, Wholesale Lawn & Garden, Wholesale Pest Control / Rat Baits.