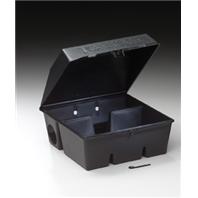 • Tamper-Resistant Station Holds Bait Chunx In The Station, Away From Children, Pets and Non-Target Species.
• Can Use Indoors and Out.
• Heavy-Duty Station Will Last Years.
• Also Protects Bait From Dust, Dirt and Moisture, So Bait Stays Fresh.
Ingredients:
Tamper- resistant bait station for rats.
Motomco - Tomcat Rat Bait Station product is categorised under Wholesale Motomco products, Wholesale Lawn & Garden, Wholesale Pest Control / Rat Baits.