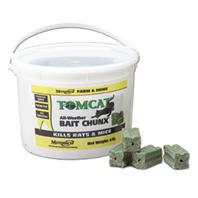 • Tomcat Is Tougher Than A Barnyard Cat For Controlling Rats and Mice.
• Manufactured With Human Food-Grade Ingredients and Enhancers For A Bait So Palatable That Rats and Mice Cannot Resist.
• 4 Pound.
Ingredients:
Diphacinone (anticoagulant). Each chunx is 1 oz.
Motomco - Tomcat All Weather Bait Chunx - 4 Lb product is categorised under Wholesale Motomco products, Wholesale Lawn & Garden, Wholesale Pest Control / Rat Baits.