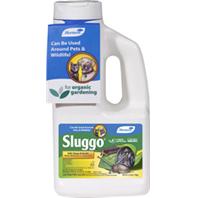 • Omri Listed For Organic Gardening
• An Alternative To Traditional Slug and Snail Bail, Contains Iron Phospate
• Can Be Used Around Pets and Wildlife
• Labeled For Use In Vegetable Gardens Up Until Harvest and Remains Effective After Rain
• 1 Pound Covers Up To 2, 000 Sq. Ft
.
Monterey Lawn and Garden - Sluggo - 2.5 Lb product is categorised under Wholesale Monterey Lawn and Garden products, Wholesale Lawn & Garden, Wholesale Animal & Insect Control.