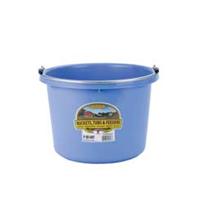 • Plastic Buckets Have Always Been A Favorite Around The Farm.
• Its Compact Size Makes It Handy For Everyday Chores Around The Barn Or At Home.

Ingredients:
High density polyethylene plastic.
Miller Mfg - Plastic Bucket - Blue - 8 Quart product is categorised under Wholesale Miller Mfg Co Inc products, Wholesale Lawn & Garden, Wholesale Buckets and Tubs.