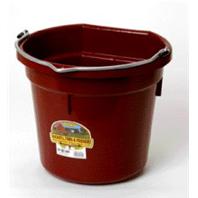 • Plastic Buckets Have Always Been A Favorite Around The Farm.
• The Flat Back Fits More Compactly Against A Wall Or Fence and Makes Hauling Heavy Loads Of Water Or Feed A Lot Easier.
• Buckets Are Made From Polyethylene Resin That Is Impact Resistant, Protects Against Warpage and Helps Prevent Stress Cracks.
Ingredients:
Hdpe high density polyethylene plastic.
Miller Mfg - Flat Back Plastic Bucket - Burgundy - 20 Quart product is categorised under Wholesale Miller Mfg Co Inc products, Wholesale Lawn & Garden, Wholesale Buckets and Tubs.