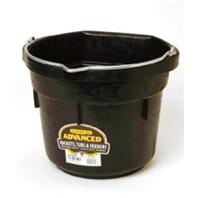 • Little Giants Duraflex Advanced Rubber Buckets Are Even More Crack-Proof, Crush-Proof, and Freeze Proof Than Plastic.
• New Design Features Include A Wider Opening Stacking Ribs Improved Handle Eyelet Graduated Markings For Easy Measuring.
Ingredients:
Duraflex corded rubber.
Miller Mfg - Flat Back Pail - Black - 12 Quart product is categorised under Wholesale Miller Mfg Co Inc products, Wholesale Lawn & Garden, Wholesale Buckets and Tubs.