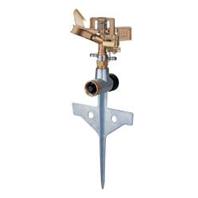 • Allows Unit To Unit Connections, The Metal Spike Allows Easy Placement In Hard Soil and Resists Breaking.
• Heavy Duty Pulsating Sprinkler With Step Spike.
Melnor - Pulsating Sprinkler Metal Spike product is categorised under Wholesale Melnor Inc products, Wholesale Lawn & Garden, Wholesale Hose Nozzles, Hangers & Sprinklers.