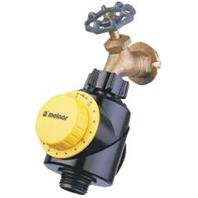 • Works With Low Pressure Drip and Soaker Hoses.
• Has On Off Knob For Use Like A Faucet.
• Never Over Water Again, Simply Set and Forget.
• Egg Timer Design (Chronometer) Measures Actual Time and Automatically Shuts Off.
Melnor - Mechanical Auto Aqua Timer product is categorised under Wholesale Melnor Inc products, Wholesale Lawn & Garden, Wholesale Hose Nozzles, Hangers & Sprinklers.