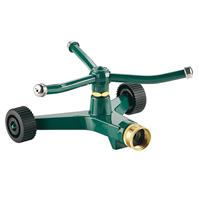 • A Revolving Sprinkler That Provides Gentle Watering, With Easy To Move Wheel Base.
• Waters Up To 45 (14M) Diameter Circle.
• Powder Coated Rustproof Design Provides Long Life. Brass Tipped 3 Arm Revolving Action.
Melnor - 3-Arm Revolving Sprinkler With Wheels product is categorised under Wholesale Melnor Inc products, Wholesale Lawn & Garden, Wholesale Hose Nozzles, Hangers & Sprinklers.