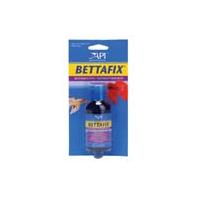 • Uses Natural Healing Power Of Melaleuca, A Variety Of Tea Tree
• Repairs Damaged Fins and Promotes Fin Regrowth
• Use When Bettas Show Signs Of Bacterial Infection
• Heal and Repair Open Wounds
• One 1. 25 Ounce Bottle Treats 15 U. S. Gallons

Ingredients:
Melaleuca: 0. 2 percent. Inactives: 99. 8 percent.
Mars Fishcare North America - Bettafix Remedy - 1.25 oz product is categorised under Wholesale Mars Fishcare products, Wholesale Pond Supplies, Wholesale Fish Medications.