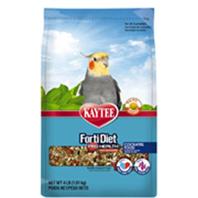 A seed based blend of fresh palatable seeds grains and fortified supplements providing all essential nutrients. Dha omega 3 supports heart brain & visual functions antioxidants support health & the immune system. Probiotics & prebiotics aid in digestive health naturally preserved for ideal freshness. . .
Safflower Seed Wheat White Millet Oat Groats Ground Corn Corn Canary Grass Seed Cracked Corn Milo Buckwheat Dehulled Soybean Meal Corn Gluten Meal Whole Peanuts Flax Seed (source of Omega-3) Red Millet Dried Red Peppers Calcium Carbon
Kaytee Products - Kaytee Fdph Feather Cockatiel Safflower - Assorted - 4 Lb product is categorised under Wholesale Kaytee Products products, Wholesale Wild Birds, Wholesale Medications/Supplements.