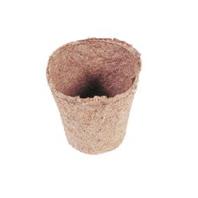 • The Jiffy All Natural, Pre-Formed Round Pots Make Starting and Handling Plants Fast and Easy
• Bottom Holes Improve Root Development and Afford Better Drainage For Your Plants
• These Pots Also Help To Minimize Shock When Transplanting
• Fill The Pot With Mix, Water Thoroughly, Gently Pat Seeds, When Roots Appear Plant Into Container Or Into Garden
Ingredients:
Canadian sphagnum peat moss and wood pulp. Biodegradable.
Jiffy/Ferry Morse Seed - Round Jiffy Pots - 3 Inch product is categorised under Wholesale Jiffy Ferry Morse Seed products, Wholesale Lawn & Garden, Wholesale Peat Pot and Seeds.