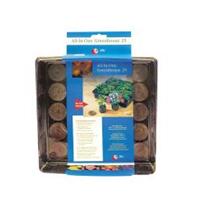 • Offers A Complete System In A Compact Size To Make Starting Seeds Fast, Easy and Convenient.
• All-In-One Greenhouse.
Ingredients:
Sturdy base tray and clear humidity dome with 25 jiffy-7 peat pellets. Canadian sphagnum peat moss and wood pulp. Biodegradable.
Jiffy/Ferry Morse Seed - All-In-One Green House - 11 x 11 Inch product is categorised under Wholesale Jiffy Ferry Morse Seed products, Wholesale Lawn & Garden, Wholesale Peat Pot and Seeds.