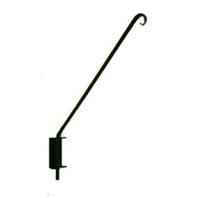 • Hanger Has A Heavy Duty Wall Mount and Is 22 Inch In Length, With 7/16 Inch Stock.
• Has A Downturned Hook and Comes With A Black Powder Coat Finish.
.
Hookery - Swivel Hanger - Black - 22 Inch product is categorised under Wholesale Hookery products, Wholesale Lawn & Garden, Wholesale Hooks & Hangers.