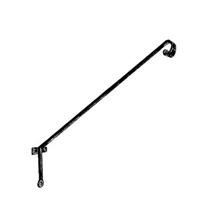 • Durable and Long Lasting Fence and Deck Hook.
• Approximately 36 Inches In Length With 3/8 Inch Stock.
• Comes In Black Powder Coat Finish.
• Simply Attach The Hook's Base With The Enclosed Screws and Make Sure It Is Secure Before Hanging Anything On It.
Hookery - DR-48 Fence And Deck Hook - Black - 36 Inch product is categorised under Wholesale Hookery products, Wholesale Lawn & Garden, Wholesale Hooks & Hangers.