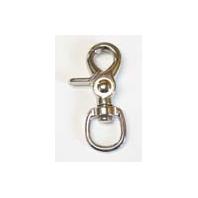 The snaps are made from a zinc alloy and then nickel plated to a high luster.
The die cast process offers a very uniform material cross section void of internal defects, therefore creating a very consistant breaking strength. For the safe working loads on the snaps.
Henssgen Hardware - Swivel Eye Trigger Snap - ¾ x 2-3/4 Inch product is categorised under Wholesale Henssgen Hardware Corp products, Wholesale Lawn & Garden, Wholesale Fastners and Snaps.