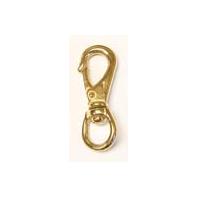 The brass snaps are made in the sand cast method then polished to a high luster.
They are widely used in the marine and harness industry because they hold up to the elements and give a rich appearance. For safe working loads on the snaps


Henssgen Hardware - Swivel Eye Boat Snap - 3/4 x 4-1/2 Inch product is categorised under Wholesale Henssgen Hardware Corp products, Wholesale Lawn & Garden, Wholesale Fastners and Snaps.