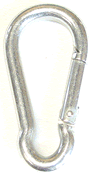 The snaps and connectors are manufactured to exacting standards from machine formed steel wire or drop forged steel tumbled smooth and plated to protect against rust.
For safe working loads on the snaps and connectors in the section.


Henssgen Hardware - Spring Snap Link - 9/32 x 2-3/4 Inch product is categorised under Wholesale Henssgen Hardware Corp products, Wholesale Lawn & Garden, Wholesale Fastners and Snaps.