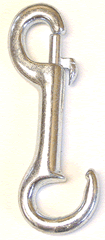 The snaps are made of malleable iron in the sand cast method tumbled smooth and then zinc or nickel plated to protect from rust.These snaps are widely used in farming and ranching as they give a rugged apperance and hold up well to tough use. For safe working loads on these snaps.
Zinc Plated Malleable Iron.
Henssgen Hardware - Open Eye Bolt Snap - 1/2 x 5 Inch product is categorised under Wholesale Henssgen Hardware Corp products, Wholesale Lawn & Garden, Wholesale Fastners and Snaps.