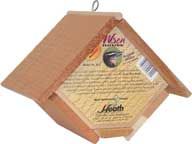 • Beautiful Cedar, Chalet-Style Wren Home With 1 Inch Diameter Entrance Hole.
• Bottom Slides Out For Easy Cleaning.
• Enjoy Watching These Beautiful Birds In Your Backyard By Hanging This House 6-10 Feet Above The Ground.
• Try Hanging Several Houses In Your Backyard To Create Your Own Backyard Habitat.
Heath - Wren House - Brown product is categorised under Wholesale Heath Mfg Co products, Wholesale Wild Birds, Wholesale Houses & Nests.