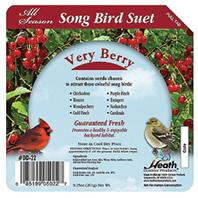 • This Songbird Suet Cakes Are The Same High Quality In A Smaller Size and Price.
• A Quick Source Of High Energy For Your Backyard Birds, Which Have A Very High Metabolism.
• Use Year Round For Healthy Feathers.
• Guaranteed Not To Turn Rancid.
• Highest Quality Beef Tallow Means A Higher Melt Point For Year Round Feeding.
Ingredients:
Rendered beef suet, select seeds and grains.
Heath - Songbird Very Berry Suet Cake product is categorised under Wholesale Heath Mfg Co products, Wholesale Wild Birds, Wholesale Food & Treats.