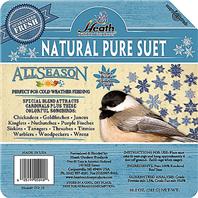 • A Quick Source Of High Energy For Your Backyard Birds.
• An Excellent Cold Weather Substitute For Insects On Which Birds Usually Feed.
• Guaranteed Not To Turn Rancid.
• Unattractive To Squirrels, Better Bird Activity.
• Highest Quality Beef Tallow Means A Higher Melt Point For Year Round Feeding.
Ingredients:
Rendered beef suet.
Heath - Natural Pure Suet Cake product is categorised under Wholesale Heath Mfg Co products, Wholesale Wild Birds, Wholesale Food & Treats.