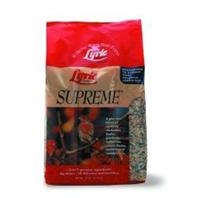 • Attracts The Largest Variety Of Wild Birds To Outdoor Feeders.
• Lyric Supreme Can Attract A Wide Variety Of Species Including Cardinals, Chickadees, Finches, Grosbeaks, Woodpeckers, Jays.
• Put In Wild Bird Feeder.
Ingredients:
Our premium mix of 11 nut meats and seeds to attract the maximum number of bird to an outdoor feeder. No fillers.
Greenview Lyric - Supreme - 4.5 Lb product is categorised under Wholesale Greenview Lyric products, Wholesale Wild Birds, Wholesale Food & Treats.