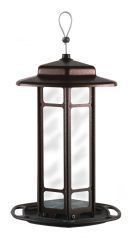 • Includes Airplane Cable With Height Adjustment Mechanism. Holds Up To 5 Pounds Of Seed
• Clear Viewing Window With A Cathedral Design Feeder
• High Quality Powder Coat Rust Resistant Finish In Copper Color
• Comes With Adjustable Height Hanging Cable
• Fully Assembled
• 9 X 13. 5 Inches
Gardner Equipment - The Cathedral Feeder - Gray - 14 Inch product is categorised under Wholesale Gardener Equipment products, Wholesale Wild Birds, Wholesale Bird Feeders and Accessories.