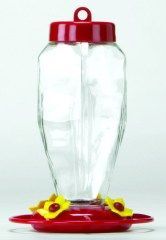 • Jeweled Eight Flute Design Catches The Brilliance Of Sunlight
• See Thru Glass So You Can See Liquid and Refill
• Four Decorative Feeding Ports To Feed Several Birds At One Time
• Hanging Cap Allows For Branch Hook Hanging Application, Tempered Glass Bottle Opening 50-100% Larger
• Two Piece Base Allows For Quick and Easy Cleaning
• No-Drip Feeder Base. Built-In Ant and Bee Guard

.

Gardner Equipment - Glass Hummingbird Feeder - Red - 24 oz product is categorised under Wholesale Gardener Equipment products, Wholesale Wild Birds, Wholesale Bird Feeders and Accessories.