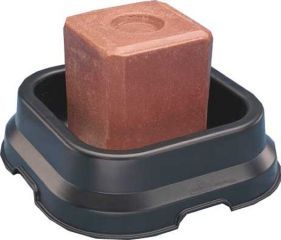 • Unique and Effective Design To Hold and Protect Mineral Salt Block For Maximum Durability
• Radial Ribs Support Salt Block Above Bottom Of Pan To Allow Water To Flow Easily Underneath
• Eight Large Diameter Holes Handle Drainage Chores, Preventing The Block Form Accelerated Dissolution
• Four Convenient Handgrip Openings For Easy Handling. Fortalloy Construction
Ingredients:
Fortalloy construction.
Fortex - Pan For Salt Block - Black - 50 Lb product is categorised under Wholesale Fortex Industries products, Wholesale Lawn & Garden, Wholesale Buckets and Tubs.