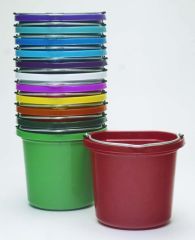 • Perfect Space Saver For Farm and Home Use
• Features A Low Wide Shape With An Extra Wide Top.
• Heavy Galvanized Fittings, Made With Fortalloy Rubber Polymer Alloy To Resists Cold Weather Cracking
Ingredients:
Fortalloy rubber polymer alloy.
Fortex - Pail - Yellow - 8 Quart product is categorised under Wholesale Fortex Industries products, Wholesale Lawn & Garden, Wholesale Buckets and Tubs.