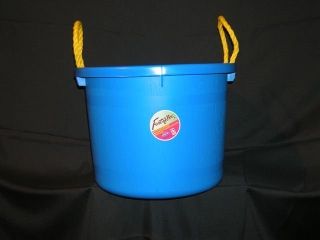 • Smaller Version Of The Mpb 70, With 40 Quart Capacity. For Stable and Household Use.
• Heavy Duty Polypropylene Rope Handle. Fortalloy Construction.
Ingredients:
Fort alloy rubber-modified polymer heavy duty polypropylene rope handle handy all around bottom grip top diameter 18 height 14.
Fortex - All Purpose Bucket - Blue - 40 Quart product is categorised under Wholesale Fortex Industries products, Wholesale Lawn & Garden, Wholesale Buckets and Tubs.