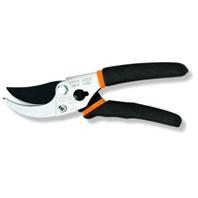 • Carbon Steel Blade. Non-Stick Coated Blade. 5/8 Cutting Capacity
• Ultra Hardened Steel Blade With Non-Stick Coating Rotating Handle Opens Parallel To Maximize Hand Strength Adjustable Handle
• By Pass Blade For Clean Cuts On Green Growth.
.
Fiskars - By Pass Pruner - Black and Orange - 10 Inch product is categorised under Wholesale Fiskars products, Wholesale Lawn & Garden, Wholesale Pruning and Trimming Tools.