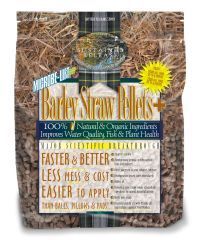 • Specially Made For Landscaper and Pond Service Contractors, Costs Less Than Bales, Recommended For Use With All Microbe-Lift
• The Direct Placement In A Pond Enhances Substrates and The Decomposition Process Starts Immediately
• It Buffers The Ph, and Provides A Slow, Steady Release Of Natural Ingredients By Natural, Biological Activity
• Provides A Slow Steady Release Of Beneficial Ingredients Through Natural Activity
• Works Years Round
Ingredients:
Concentrated barley straw enriched with peat & humic acid. Weed free. Treats 500 gallon pond up to 7 months and an 800 gallon pond for up to 5 months. Each bag includes a graduated, dry-measure cup with both oz and ml measures.
Ecological Laboratories - Barley Pellets - 2.2 Lb product is categorised under Wholesale Ecological Laboratories products, Wholesale Pond Supplies, Wholesale Barley.