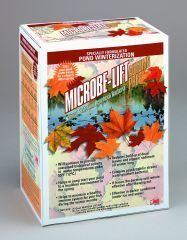 • Specially Formulated For Pond Winterization, Which Continues To Sustain Biological Activity Even In Temperatures Below 55
• Helps To Jump Start Your Pond To A Healthier Environment In The Spring and Helps Fish Maintain Healthy Immune Systems
Ingredients:
Contains a blend of cellulase enzymes, cellulase-producing bacteria and a cold weather bacteria. Accelerate the breakdown of leaves, organic sediment and sludge all winter long.
Ecological Laboratories - Autumn Prep - 1 Quart product is categorised under Wholesale Ecological Laboratories products, Wholesale Pond Supplies, Wholesale Water Treatments.