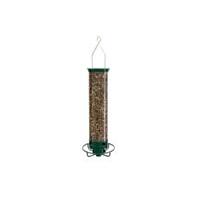 • 21 Long 4 Ports. Holds 5 Pounds Seed. Motor Driven, Weight Activated Perch Ring Flips Squirrels Off When Weight Is Applied
• The Definitive Squirrel Proof Bird Feeder
• Birds Love To Eat From It, But Grey Squirrels Are Prevented From Eating From It In A Way That Will Make You Smile
• The Weight Activated Feeding Perch Is Calibrated To React To A Squirrels Weight
• Place It Anywhere, Even In Front Of A Window.
Droll Yankees - Yankee Flipper Squirrel Proof Bird Feeder - Green - 21 Inch product is categorised under Wholesale Droll Yankees products, Wholesale Wild Birds, Wholesale Bird Feeders and Accessories.