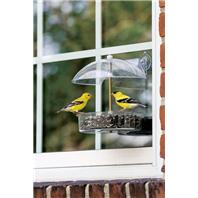 • Uv Stabilized Polycarbonate Drainage Holes; Sloped Cover 6. 5 Long Capacity. 5 Pounds 3 Suction Cups. Curved Rim.
• Open Construction Clear View Of Birds On The Feeder.
• Deep Dish Holds Two Cups Of Seed, Suet, Fruit Or Mealworms.
Droll Yankees - Winner Classic Window Feeder - Clear - 1/2 Lb product is categorised under Wholesale Droll Yankees products, Wholesale Wild Birds, Wholesale Bird Feeders and Accessories.