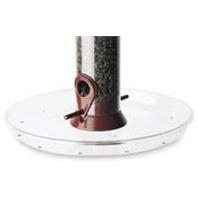 • Ample 10 Diameter & Threaded Plug, A Perfect Size For All Feeders.
• Attaches To All Droll Yankees Tubular Feeders and Bird Lovers Feeders With Threaded Plug.
Droll Yankees - Omni Seed Tray Feeder - Clear - 10.5x10.5x1 Inch product is categorised under Wholesale Droll Yankees products, Wholesale Wild Birds, Wholesale Bird Feeders and Accessories.