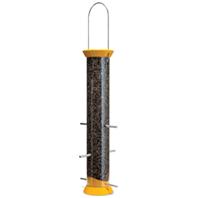 • Length 15, Diameter 2. 5, Capacity 1 Pound, 6 Ports. Aluminum Perches Can Not Be Chewed
• Openings For Nyjer Seed Are Designed To Dispense Seed Economically
• Top Assembly Easily Removed For Cleaning
• Zinc Die Cast Tops, Bases, and Ports To Last A Lifetime
• Powder Coated Finish Won't Chip Or Fade
• Stainless Steel Wire Squirrels Can't Chew
Droll Yankees - New Generation Thistle Feeder - Yellow - 15 Inch product is categorised under Wholesale Droll Yankees products, Wholesale Wild Birds, Wholesale Bird Feeders and Accessories.